It's his fault. Why I haven't updated this blog. Okay, fine. I also forgot the blogger password again...
Anyway, this is my friend Cycle17. We met on Foo on the bike forums. Well, we've both been on there for years, but more recently I ventured into Foo and posted a pic from Pardee, and got some nice comments from Foo men. Then I commented on another thread about the woes of online dating, and he commented there, in a cute, flirting but polite way, and I noticed him. Well, actually Yoda, because that was his avatar. I called him my 'little green Foo Crush', for offering me his wheel, his seat, his tires and to be my wrench when I wasn't riding! How can a gal pass that up? So it started as forum flirting, which went to pm's, then he flew here to visit! We rode to Winters on a blustery day, then rode the American River Trail. Strong rider! He owns 3 immaculate Trek OCLVs and a Madone. Really, really good man. He's honest, open, a lot of integrity, excellent communicator (that's new!)...and cuddly. :) I'm going to New Mexico to ride there at the end of June for a few days. I'm hopeful!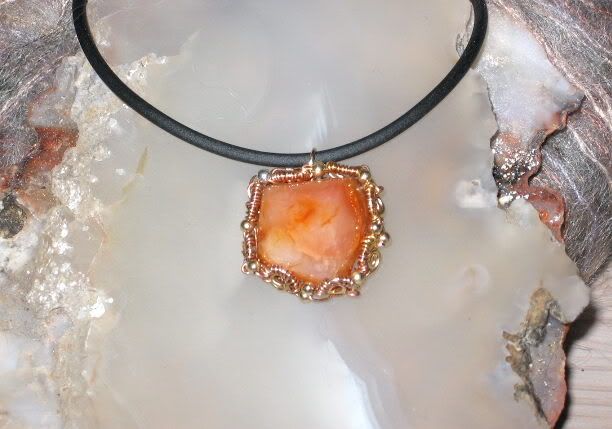 He brought me this piece of carnelian from a beach in Washington. I made it into a necklace to wear since we don't see each other often because of distance.
...and he brought me Cheez Its. lol!
He also sent me some CD's of music and 700 mb of MP3 music! Cool. :)
And all along, I've finished another school year. And knitted these cuffs because I wanted to try knitting lace.
And I worked some of Nephrite's jade to make a 21st birthday gift for Cheryl, who graduated this year from Irvine!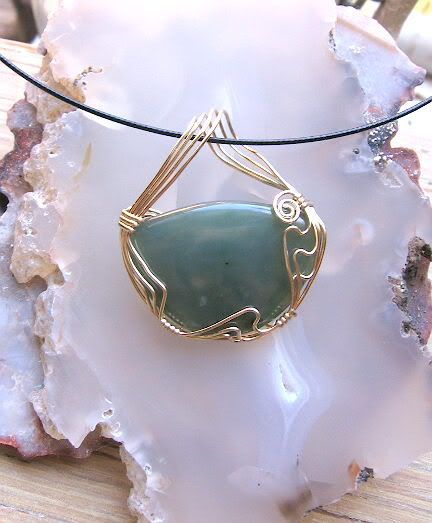 Now, I'm sewing. I have a small wholesale order to get done, and work on some Sock Bug purses for my Etsy!! AND I'm working on an adjustable wire wrapped Eni style ring that I'll post here when I get the details worked out.
That's all for now!