Clapotis fever!!
SO I'm a couple years behind the times. I know everyone in cyber-knitting land was doing a clapotis. I honestly thought it was some kind of South American poncho, or a scarf with pockets/poncho thing: not interested in that! But from my Mystery Stole wanderings, I clicked on
Clapotis
and saw the real thing. I read the intro. I had visions of myself with red lipstick, little black dress, sitting in a cafe in France, sipping a latte...well that was IT! I had to knit one.
But what to do about the yarn? It asks for something close to worsted: but reading around, some have used lace. I had lace weight. I had lots of handpaintedyarn.com lace weight. But I didn't really want to knit with something that thin. I didn't want to spend *more* money on yarn when I have so much....so this is what I did.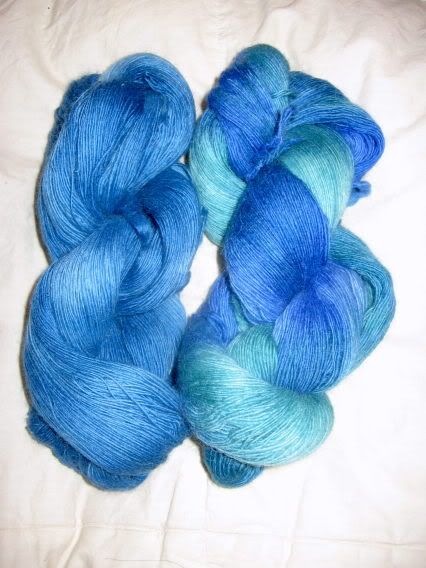 I chose two skeins of lace weight, just slightly different. And then, laboriously, set one on my swift, and added more twist to the single ply on my Louet. Talk about tedious!
At the end of one skein, I was no longer adding twist, as much as I was simply transfering it to the bobbin.
There was no way I was going to go through 850 yds of another skein!
So I figure forget the counter twist. I'm just going to ply the darn stuff, and set it. Theoretically, it should be fine.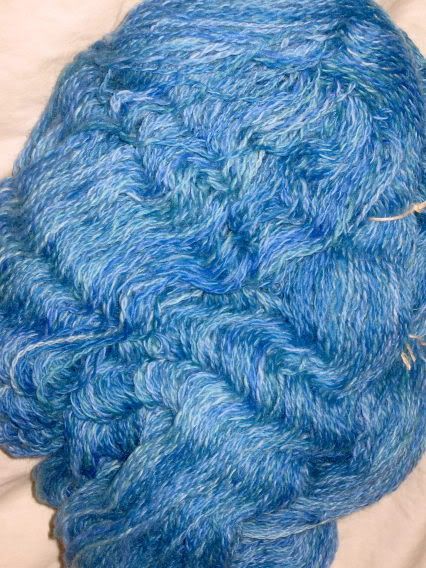 Here's the result. I haven't set the twist in this pic, but it set just fine! I have a slightly barberpole, varigated fingering yarn! It should be very nice as a first clapotis.
I'm sort of waiting for handpainted.com to get more Malabrigo merino worsted weight. I have my heart set on a deep forest green clapotis at some point...
OH. And I finished both sides of Clue #1. Hopefully I'll have time to knit when I'm in Mendocino taking my polymer kaleidoscope class!