Coloring my World at West Valley Alpaca
I've been looking forward to this all week!! Today, I got to drive out into the country, and take a dye workshop with Pat at
West Valley Alpaca
in Esparto. There were just 3 of us. Michelle from Oroville, Kaye probably a Bay Area gal, and myself. We met in the shop, where we were surrounded by all things alpaca. Pat sells it all! Yarn, fiber, Ashford spinning wheels, kits, buttons, Jacquard dyes, needles, alpaca bears, books and more.
Here's a close
up of some of the amazing alpaca things, for sale and inspiration! Pat is the best kind of teacher. The kind that you can ask any question that comes to you, without feeling self conscious! She had all kinds of samples to show us of skeins; dyes over different natural colors, knit and woven samples to see the resultant patterning from handpainted yarns and fiber (the focus of the workshop) and books. Oh, and she had tea and cookies for us too. :-) After a general intro talk that included safety, we were ready to get started! Just outside the shop is a big open barn, with a large plastic covered table, and jars and jars of dye. The mad scientist in me began to bubble up...
Here's the dye work area. Any color we could possibly want, and the whole set-up, just ready for us. I loved that part! It was really nice to see how streamlined and efficient her working rhythm is, from years of hand painting yarn herself. I found this particularly valuable!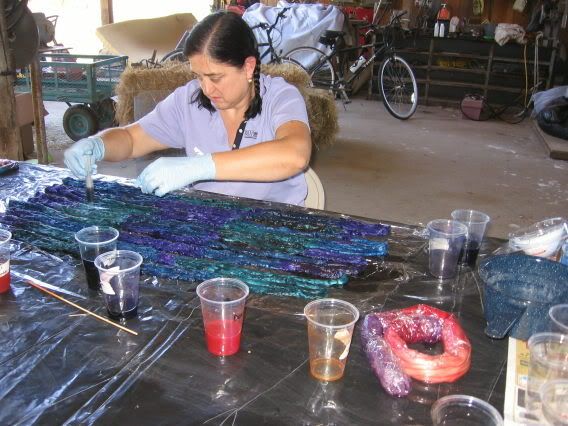 Here's my classmate carefully applying dye with a syringe. Me? I did the pour and pat method. Pour it on with a cup, and pat and squish it around with my hand. See that coiled red/purple colorway to her left? That's mine! Because there were just 3 of us, and I didn't bring a lunch because apparently I can't read, I dyed 3 different projects, plus a handful of silk cocoons to play with later.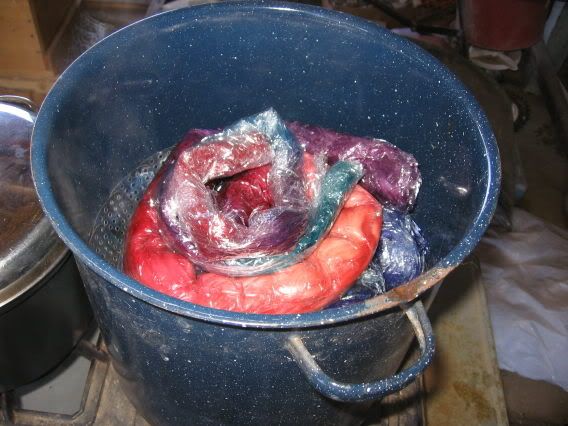 Here's a shot of the dyepot. The two large coils are fiber, the top is a skein of local grown alpaca. I need a second kitchen...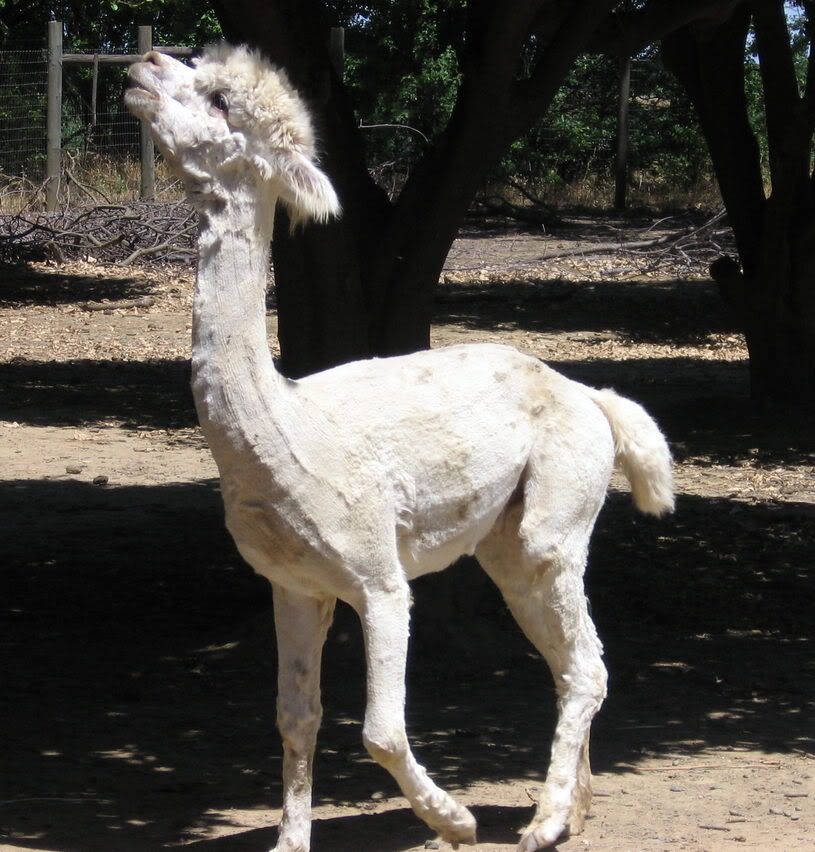 Talking about locally grown alpaca, here's a newly shaved resident! Pat and her husband are very careful breeders. They only sell their animals locally, so they can be availabe to help if needed with vet recommendations, advice, and so on. I think that's very cool. You KNOW they really care about their animals!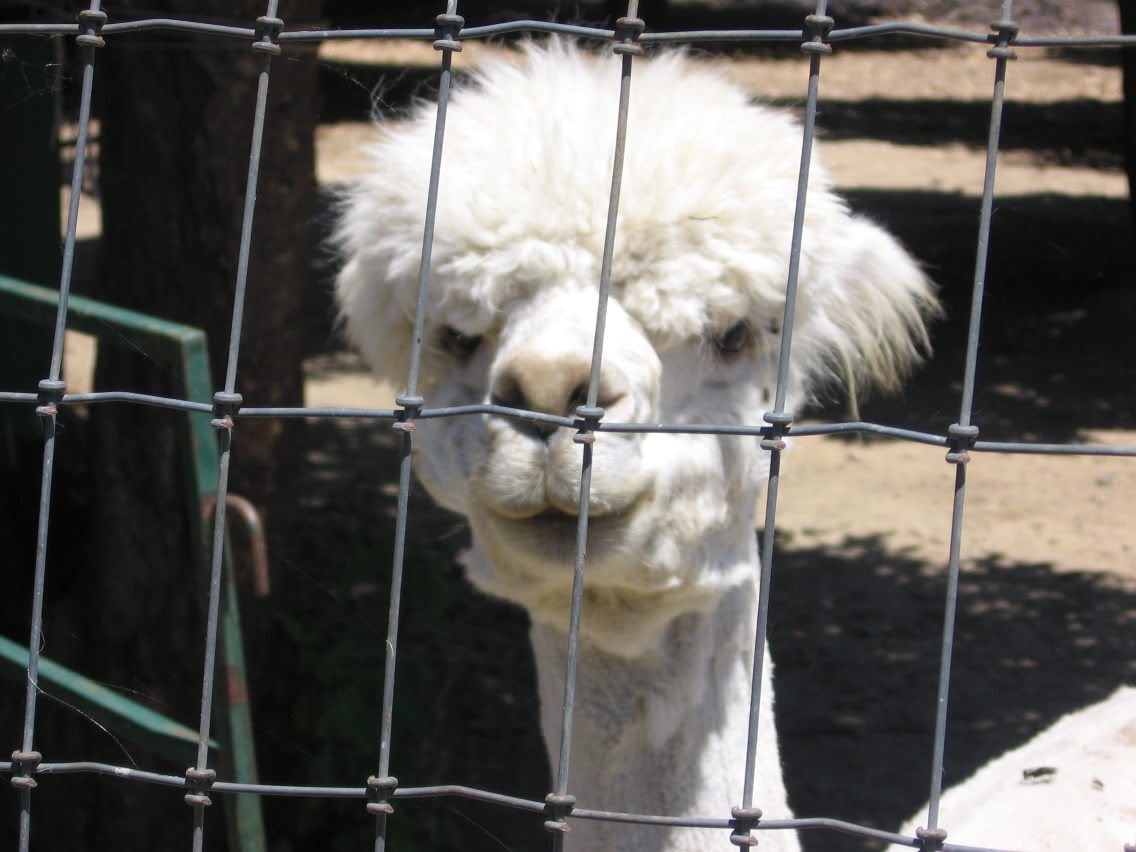 "Hey, you lookin' at me?!"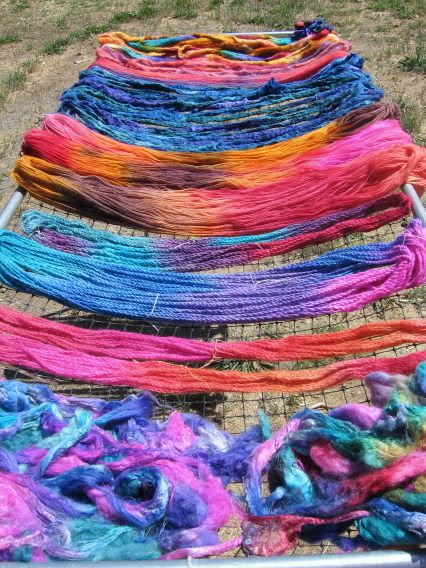 And ta da! Our amazing results of the day! Pat says there are some that take her workshops more than once. I may be one of those! It was $35 for 4 hours, and you get the company and inspiration from other fiber artists in a beautiful setting, and you get to shop, and you don't have to clean up afterwards!
I am one happy camper! All right, NOW I can do report cards...