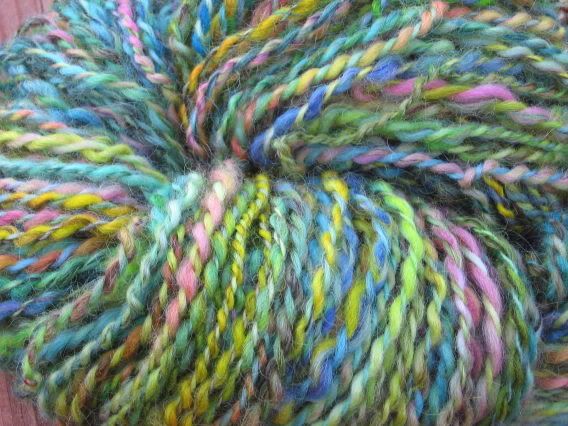 More yarn porn. I really love to spin!
I'm so freakin tired. really did too much today. Went to bed at 2:00 am last night, got up at 7:00 am to go to work. NOT an easy day. Had to call a parent twice (lies and stealing) and even that was hard. The phone # on the emergency card is a fax number, the other I could only leave a message, and writing to her email address got returned. Sigh.
Anyway, got home at 4:00pm. Then went for a 16 mile bike ride with nl into the wind. Rode straight to my sister's house, where I gave my nephew a hair cut (his hair is black, thick and grows as fast as kudzu.) Got home in time to scarf a frozen burrito, then out to the courts to play with my gang. Dn and I beat Cr and St 6-4. Then: fireworks! From the Davis City day. That was cool. I love fireworks! We sat on the service line and enjoyed a front seat show. We played until the parking lot cleared out, then rode 3.2 miles back home in the dark, getting back at 10:00pm (with lights and day-glo vest of course.)
I'm beat. But I did manage to finish and put up Brittany: Lunerium got her mini-Fawkes!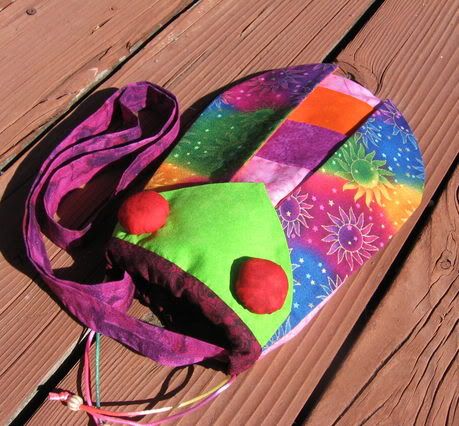 I'm so glad she liked it. It was 'made' before I started. I knew the fabric, I knew how I needed to change the pattern, I knew it would be special. He was a very cool bird, I have to admit. I like it, when things 'create' themselves, and I'm just the maker. Sock Bugs are like that. Yarn colors are getting 'clearer' to me too.