Not bunnies again!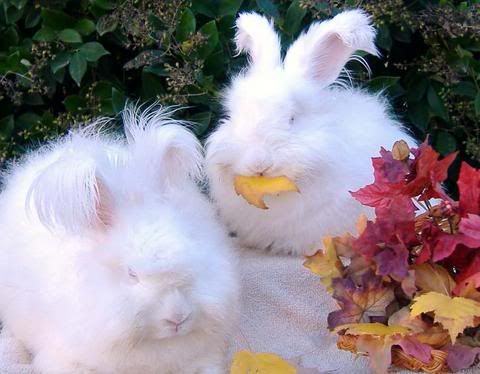 Not just any bunny, of course, but German angoras. (and/or Giant). I lost dear Bodhi not long ago: he was over 4, and the lifespan of these gentle giants aren't very long. I hesitated getting another, but Bodhi's keeper during the school year, as his job as a classroom bunny, really wanted a rabbit for her new room...so she asked me to help find one. This pic is from MFO Rabbitry in Sac, which may not be in existance anymore (at least their website isn't!) But I loved this pic. (I lost Bodhi's pics on a hard drive that crashed and never recovered...argh! But I have lots of kid's drawings of him I've saved!)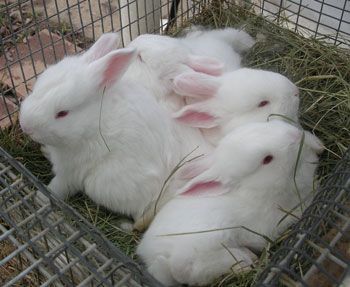 These babies are from
Bungalow Farms
where the wonderful Bodhi came from. She has wonderful, healthy, sweet bunnies in Sacramento, in her backyard, besides being the registrar for the
IAGARB
or Internation Association of German Angora Rabbit Breeders (thank gawd for the acronym). She has two that are possibilities for us. A chinchilla hybrid, 4 months, and an 18 month German doe.
Of course, me being me, I immediately think of ways to have an indoor bunny...I think after Woody lives out his life (my hyper terrier dog that thinks cats and bunnies are chew toys) I will clear out the downstairs enough to add a bunny. Litter train her, and then I'll have super stuff for my compost, and more wool to spin!
Whew. A plan.Without a plan, I would have come home with a rabbit for sure!